Experience the Best of Baja California With Endless Possibilities
Besides fantastic fishing, while on the Sea of Cortez you may encounter huge numbers of porpoises, gray and humpback whales, pilot whales, and occasional pods of orcas. Sea lion colonies inhabit the rocky cliffs to the south of the East Cape beaches, and many sea turtles thrive in these fertile waters.
Scuba divers of all skill levels will appreciate the wide variety of dives available in the Sea of Cortez near the hotels. With crystal clear waters, visibility is virtually unlimited at many dive locations. More than twenty primary dive sites between 30 and 130 feet can be accessed via the hotel's well-equipped Dive Boat "Manta Ray," which can transport up to twelve divers with their equipment. Both half-day, two-tank dives as well as full-day, three-tank dives are available with a certified dive master.
Scuba novices can sign up for "Discover Scuba" instructional tours and shallow water dives, and the hotels even offer scuba certification classes on site so you can earn your dive card while on vacation!
The Cabo Pulmo Living Reef Marine Sanctuary is a favorite stop for scuba divers and snorkelers alike. Numerous reefs, over 350 species of tropical fish, sea turtles, three species of rays including Mantas, whale sharks in season, octopus, lobsters, eels, and sea turtles are some of the varied marine life you may encounter. Dive with California sea lions, and for the adventurous, sign up to scuba in the midst of a number of shark species, including hammerheads, white tip reef sharks, bull sharks, and even tiger sharks.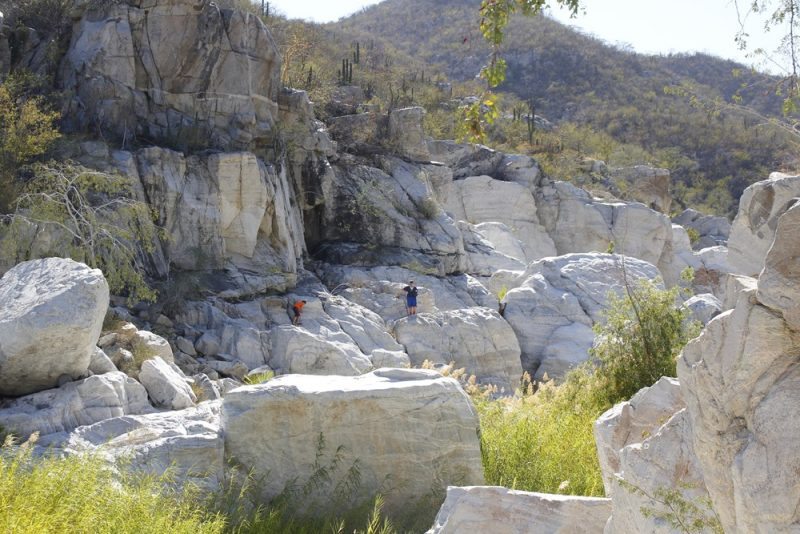 A wide variety of activities are available for you to enjoy during your trip to the East Cape. Your resort front desk will coordinate your choice of adventures as you wish. Choose half- or full-day Eco-Tours to beach comb and shell hunt, or to experience spring-fed freshwater pools and magnificent waterfalls in the Sierra de la Laguna mountain range. Hundreds of bird species and countless other wildlife inhabits the terrain of Baja.
Enjoy a horseback riding trip on the white sand beaches or through the arroyos and mountain passes located behind the resorts. Many guests also choose to rent ATVs for journeys in the mountains. Guided and un-guided packages are available, and you can explore ancient rivers of sand and stunning geologic formations throughout the region. To recreate the thrills of the Baja 1000 off-road race, consider renting a dune buggy to race through the river beds.
For truly heart-stopping excitement, consider elevating your body skyward as well as your heart rate as you soar hundreds of feet in the air over spectacular canyon scenery on a zip-line. The hotels arrange for a guided tour, and a professional staff shuttles you on a scenic off-road ride through the arroyos to the foothills of the Sierra de la Laguna mountain range. Here, you'll find zip-lining cables strung on a multi-leg course that criss-crosses the canyon, and you move from station-to-station speeding through the air across magnificent canyon vistas. Don't forget your camera to capture some breathtaking views. Thrillseekers: fulfill your need for an adrenaline rush with a mountain zip-lining tour while you're visiting the Baja!
Spa de Cortez beckons guests in need of some pampering and relaxation. A professional staff offers a variety of massage techniques, including Hot Stones, Swedish, Therapeutic, Sports, Thai, and Aromatherapy. Pedicures, Manicures, facials and Scrubs, and even haircuts can be arranged with the Spa de Cortez staff once you arrive in the Baja, or choose to make your appointments in advance. Bridal party members enjoy discounted rates, and typically some Spa services are included free of charge for the bride and groom. It's just another fringe benefit to celebrating your wedding ceremony in the beauty of the Baja!
Other available amenities to enjoy include tennis courts, table tennis, Jacuzzis, and magnificent tropical grounds that wind through the resort properties. A nine-hole, par-3, chip'n'putt golf course is located at Hotel Palmas de Cortez.. To challenge the world-famous golf courses in the resort city of Cabo San Lucas (90 minutes south), arrange shuttle van service or rent a car. In Baja Sur's capitial city-La Paz (two hours north)-as well as in Cabo San Lucas-shopping opportunities abound for jewelry, clothing, local artifacts, and traditional Mexican art.
To add an even bigger thrill to your sportfishing adventure, try catching some of our big game species from a sea kayak. Both rental kayaks and fully-guided trips are available, and it's just you against the fish as you tackle dorado, tuna, and even sailfish and marlin. A "mother boat" is arranged to transport you with your kayak out onto the Sea of Cortez, where you offload amidst schooling tuna, dorado, and billfish, or fish the inshore stretches for roosterfish, pargo, and sierra mackerel. The mother boat serves as a base of operations to assist you with releasing big fish or storing your catch for processing, as well as base camp for fresh bait, food, and cold drinks.